BSNL (Bharat Sanchar Nigam Limited) dispatches monthly bill or statement through SMS, Email and Post. Let us know how to get or view Duplicate Bill for services like BSNL Landline or Broadband or FTTH or AirFiber or BBoWiFi (Broadband Over WiFi) in case you have not received your regular bill.
Note: You can pay your BSNL bill after due date also.
How to Get or View Duplicate Bill of BSNL Landline Broadband FTTH
The e-bill sent by BSNL will be in PDF format. You can print and produce this bill to your employer to claim internet expenses. There is no need to visit any BSNL CSC/Office to get a duplicate bill. You can get e-bills by registering your Mobile Number and Email with the BSNL Portal.
Follow the below steps to get a Duplicate PDF Bill in colour at any time online.
Step 1: If you have a BSNL Portal account, log in. Otherwise create a free account providing your email, mobile number and circle/state. You can also login directly using your Facebook, Google, Hotmail or LinkedIn account alternatively.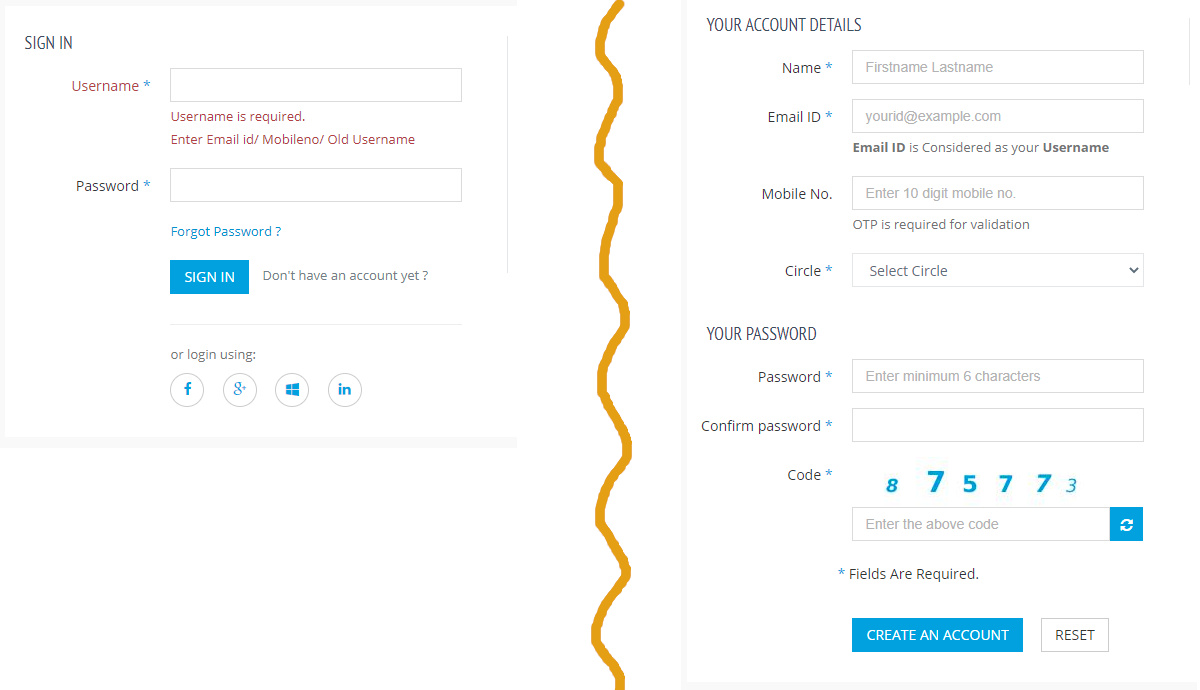 Step 2: You can see a page showing My Account, My Bills, Profile and a Menu on the left side. Choose the option "View Bills" and then choose the "Landline / Bharat Fiber (FTTH)" option.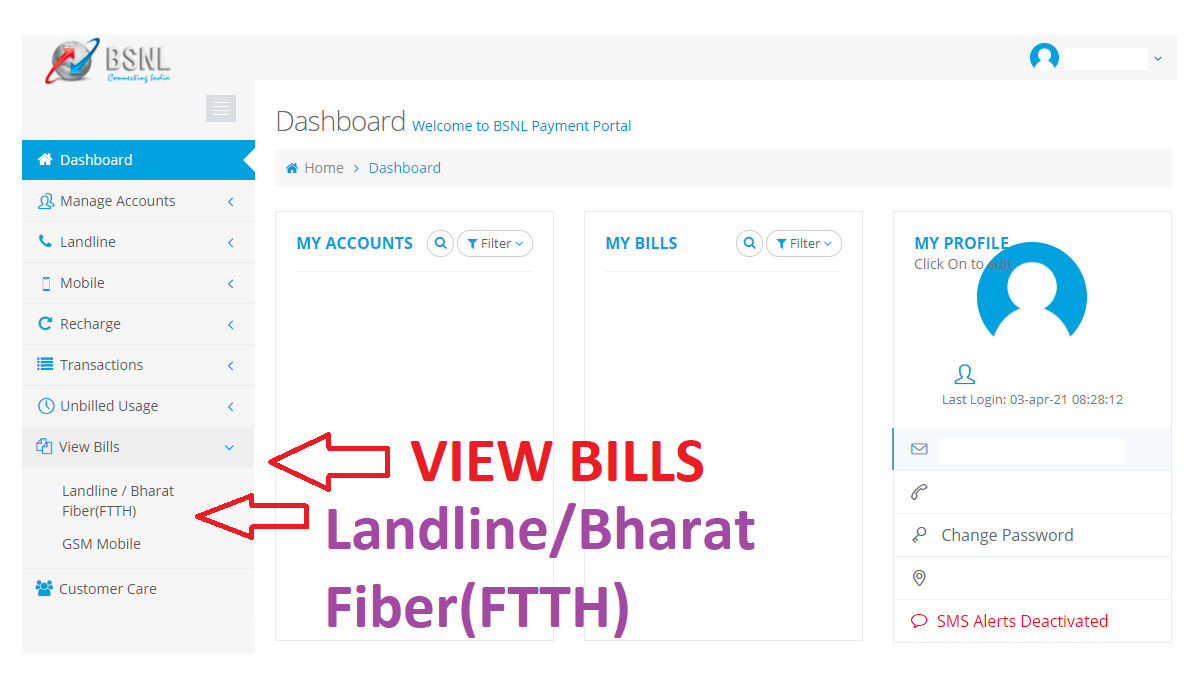 Step 3: Now click on "Add New" option under "My Bills".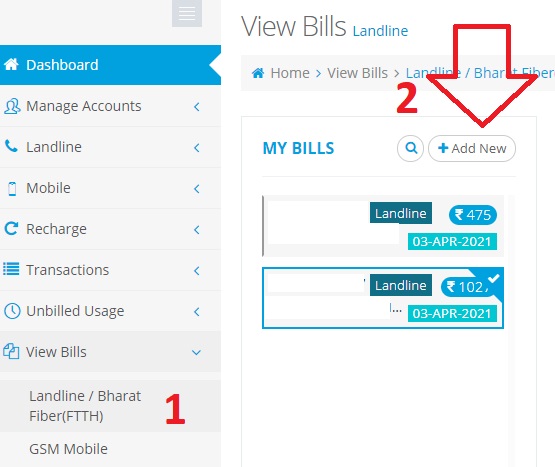 Step 4: This screen will ask for inputting data like Service Type, Phone Number, Billing Account Number and Nick Name. Check your old bill to see 10 digit billing account number. Click submit for saving.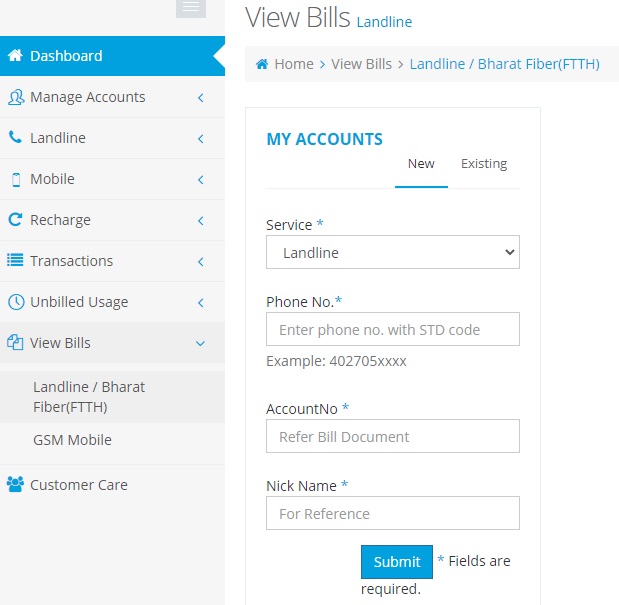 Step 5: Clicking on the added Telephone Number shows a Sample Bill. The Sample Bill contains only the first page of a Bill mentioning Total Due Amount, Due Date, Account Number, Invoice Number, GST Tax Amount and a direct link to make or pay the bill.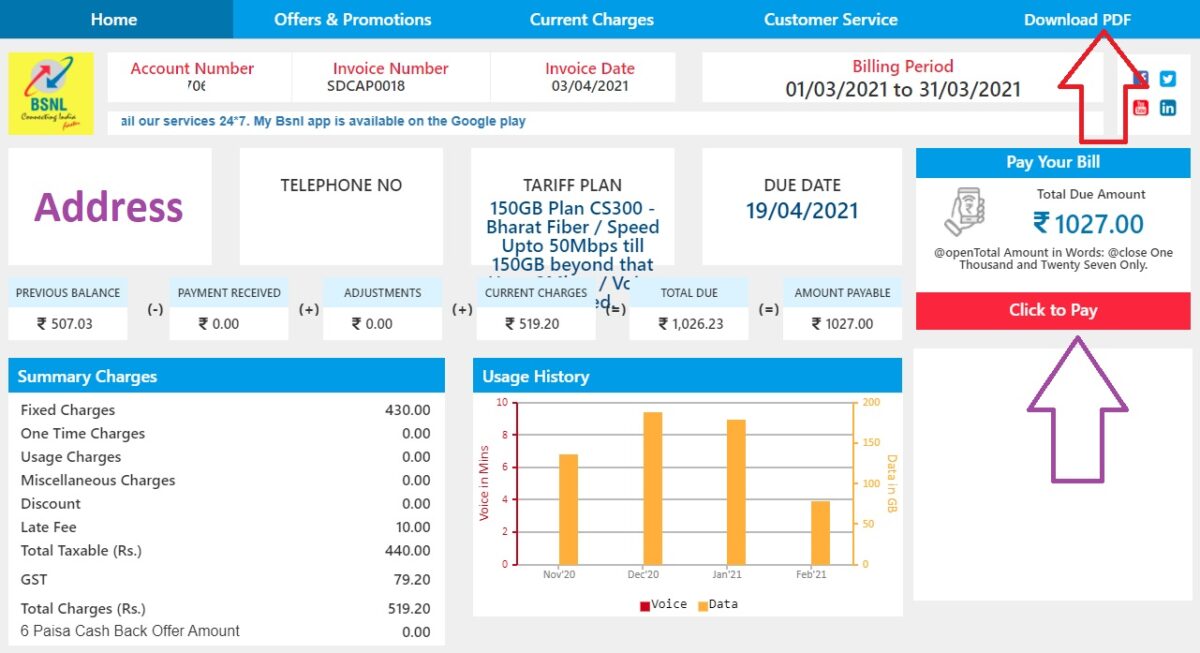 Step 6: Clicking on the "Download" option on the top of the Sample bill will download the full duplicate bill in PDF format. This is the same bill that will be dispatched to the customer in POST or Courier every month. A Full Bill Format contains extra details like Landline usage, FTTH or Broadband usage, Broadband Username, Usage charges, Installation charges and more.
This is how you can view or download Duplicate Bill for BSNL Services like Landline, Broadband, FTTH Bharat Fiber and Bharat AirFiber.
It is time to share this article with your friends and colleagues to encourage authors.
Other Useful BSNL Articles