BSNL (Bharat Sanchar Nigam Limited) provides broadband internet facility on its ADSL Plans. Like any other Service Provider, BSNL too restricts the speed of any Broadband Plan after the FUP limit. We shall guide you on how to restore or topup your Broadband Plan.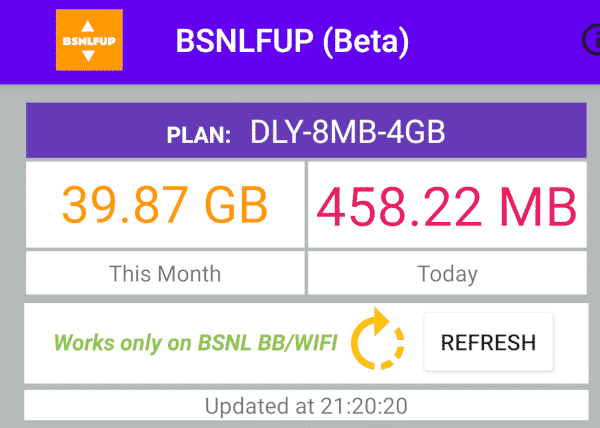 Topup BSNL Broadband or Restore Speed
FUP refers to Fair Usage Policy. BSNL imposes speed restriction after reaching a certain download limit on a daily basis or monthly basis. Now a days, GB Per Day plans attract more customers.
These GB plans offer download speeds up to 10mbps till 20 GB limit per day say. After FUP limit is crossed, speed is automatically reduced to 1mbps till the day ends. So, we have to reset the FUP by 2GB, 5GB or more to get regular high-speed data.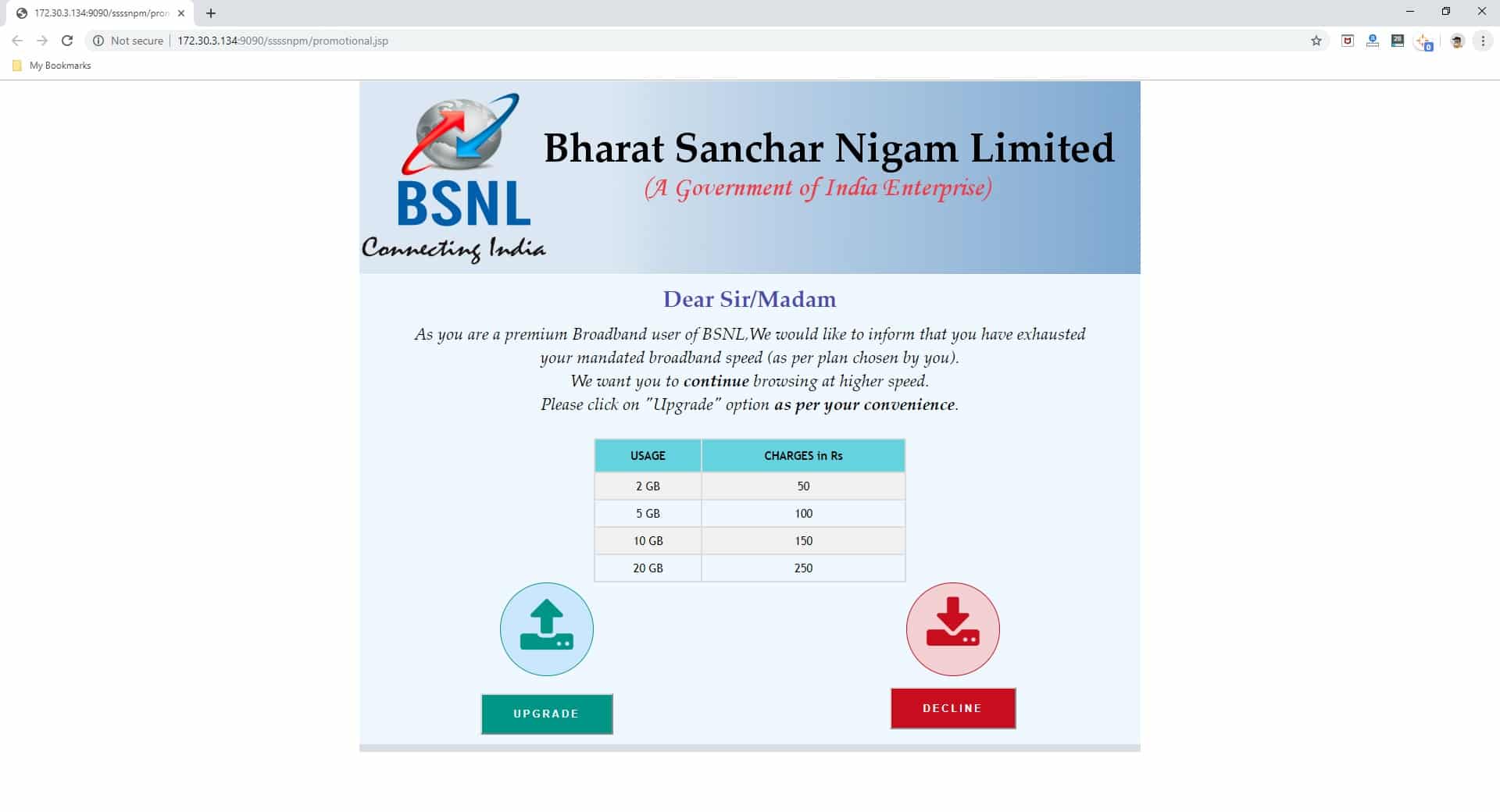 Step 1 : Go to 172.30.3.134:8080 or http://fuptopup.bsnl.co.in or http://bbtopup.bsnl.co.in:8080 or http://172.30.110.25:8090/ssssportal/manualRedirection.do
Step 2: Choose a Speed Data Pack. For 5 GB of data, BSNL charges ₹50. 12 GB data is charged at ₹100. 20 GB of data is charged at ₹150. 40 GB of data is charged at ₹250.
| | |
| --- | --- |
| Data Volume | Top up (Rs) |
| 5 GB | Rs. 50 |
| 12 GB | Rs 100 |
| 20 GB | Rs 150 |
| 40 GB | Rs 250 |
FUP TOPUP Charges 2021
Step 3 : After selection of a Topup Pack, Click Confirm or Proceed. You do not need a Bank Payment at this time as the amount is charged in your Broadband Postpaid bill.
Step 4 : Switch off and and Switch On the ADSL modem once. Once modem is ready with a steady DSL light, you can start using the Internet again with high speed.
You can try this BSNL FUP Checker android app to check your daily and monthly data usages.
If you are using a daily limit BSNL broadband, you will get an error saying "Top-up facility is not available". Such customers should wait till next day for fresh automatic renewal of high-speed data.
If you are sharing your Broadband Wifi password with your friends and neighbours, they can also open this Topup portal and recharge. You will get more bill. So do not share your Wifi password.
Try Sharing this article with your friends and colleagues to encourage users if it is useful to you.
Also read articles