BSNL – Bharat Sanchar Nigam Limited provides Prepaid and Postpaid services on its Mobile SIMs. To manage your Prepaid SIM Plan and Packs, BSNL runs a Selfcare portal called BSNLSZPrepaid. You can recharge, change tariff plan for voice and data, change fnf details, subscribe to SMS packs, choose ISD Packs and maintain FNF Group Account. Call Details history can also be seen (Step 5).
There is no need to register in bsnlszprepaid prepaid portal. Registration is required only in the Recharge portal. We shall explain the uses of BSNLSZPrepaid prepaid portal in detail.
BSNLSZPrepaid BSNL Selfcare Guide Step By Step
Step 1 : Go to BSNLSZPrepaid – BSNL Selfcare Portal. Enter your 10 digit mobile number without +91 code. You will get one SMS with OTP – One Time Password. Enter the OTP received on your phone. After successful login, you can see Account Summary. Account Summary shows details like Main Balance, Validity or Expiry dates, Grace Period, Plan Name etc. In this way you can check BSNL Prepaid recharge balance online any number of times. This section is also useful to check BSNL existing tariff plan details.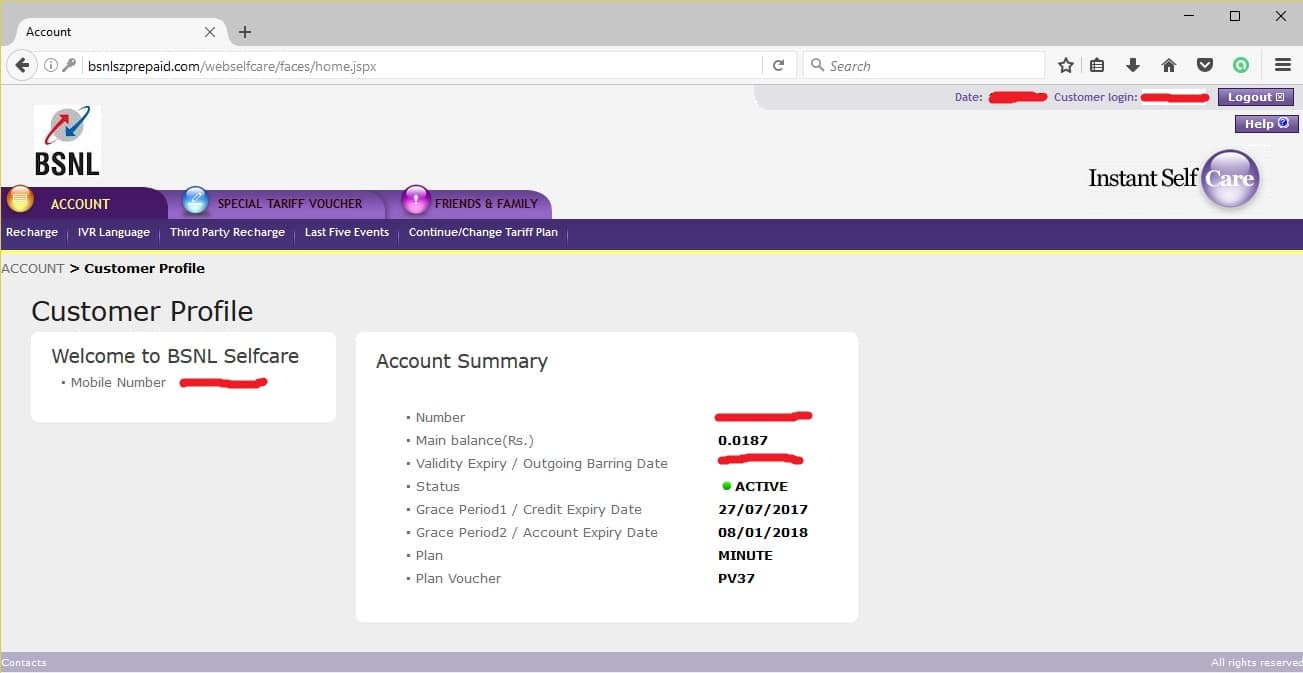 Step 2 : Go to Account and Choose Recharge option. Here you can do Scratch Card Recharge. Enter the scratch card number or code and click on 'Recharge' button. In this way you can topup your bsnl number. Your main balance will be increase after successful topup recharge.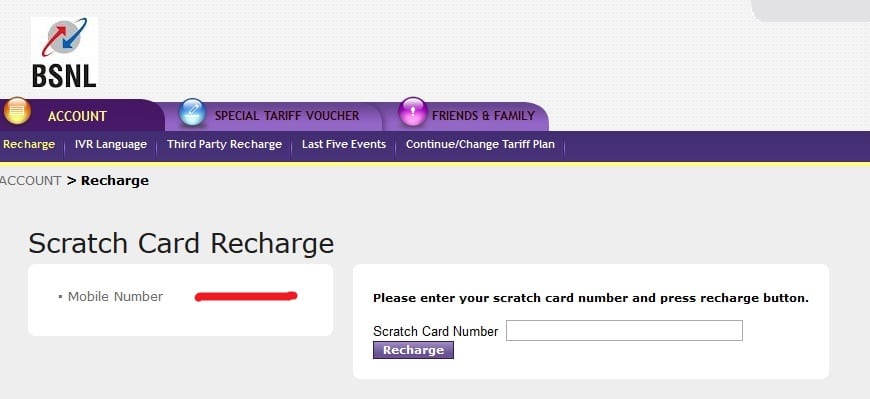 Step 3 : Each BSNL Prepaid SIM is associated with a Language used for IVRS calls. IVRS stands for Interactive Voice Response. Default language is English. Available languages are English, Hindi, Malayalam, Tamil, Telugu and Kannada.

Step 4 : BSNL Third Party recharge is useful to recharge your Friend prepaid mobile number. Choose Account and Third Party Recharge option. You should buy a Scratch Card before recharging your friend or third party number. Enter both your friend mobile number and Scratch card number and click 'Recharge' button.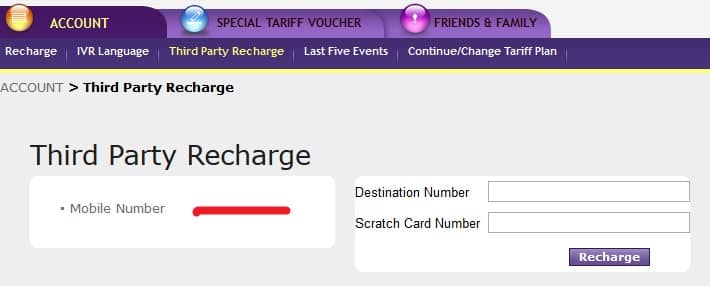 Step 5 : This option 'Last Five Events' in BSNL selfcare portal allows you to see SMS history or Call History online. The limit is only five records. Each call history record shows the call cost, call duration, call start time and Called Number or To Number. This BSNL Call History option is not known to many BSNL subscribers.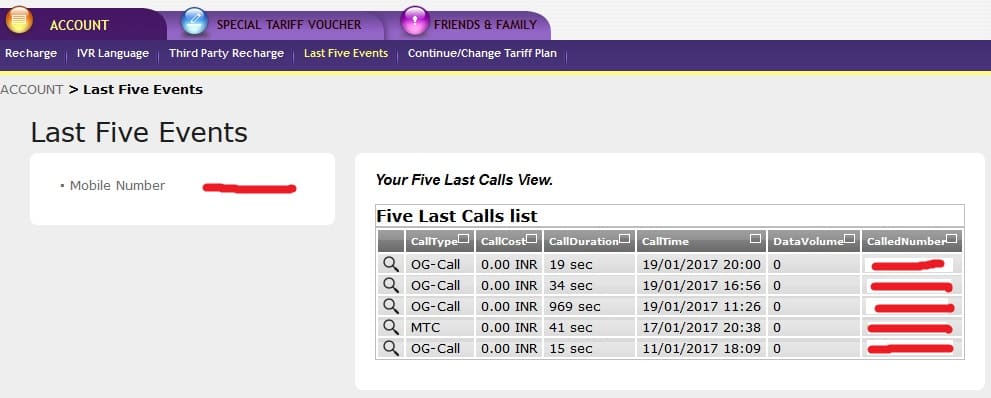 Step 6 : This option 'Change Tariff Plan' allows you change or recharge BSNL Tariff Plan with your main account balance. If sufficient balance is not available, you may need to do an online banking transaction. Remember that this option is useful only to extend validity or change the base plan of your BSNL Sim.
Step 7 : This option 'STV Enquiry' under Special Tariff Voucher allows you to know your Tariff Plan that is meant for unlimited calls, unlimited data or reduced tariff calls. You can cross check your subscribed Special Tariff Plan with expiry date online.

Step 8 : This option 'STV Subscription' under Special Tariff Voucher allows you to subscribe to Voice, SMS, GPRS, ROAMing, Combo and ISD Tariff plans. STV refers to Special Tariff Voucher used to avail prepaid mobile call rate cutter plans, unlimited calls, unlimited data, SMS Packs and ISD packs. This is the only option in BSNL selfcare portal to recharge bsnl prepaid number from main balance.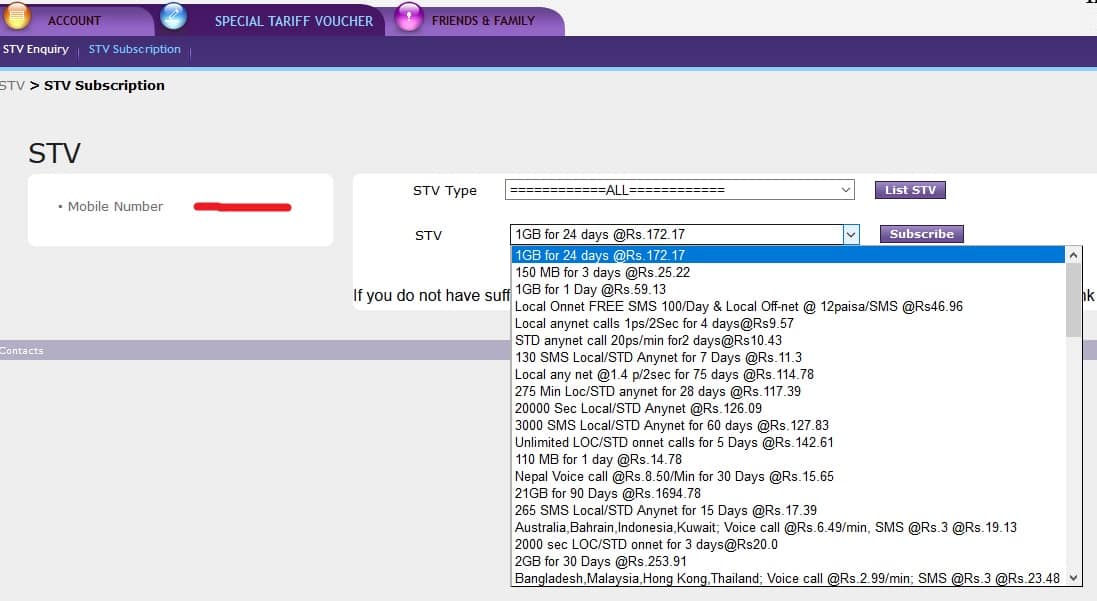 Step 9 : This option 'FNF View' under Friends and Family allows you to manage your existing Friends and Family numbers. You can choose up to 5 mobile or landline numbers to avail reduced call rates.

Step 10 : This option 'FNF Add' under Friends and Family allows you to add numbers to your Friends and Family reduced call rate group. Enter your 10 digit mobile number of friend and click Add.

Step 11 : This option 'FNF Modify' under Friends and Family allows you to change your already added existing FNF number to new number. Enter old FNF number and New FNF number and click Update button.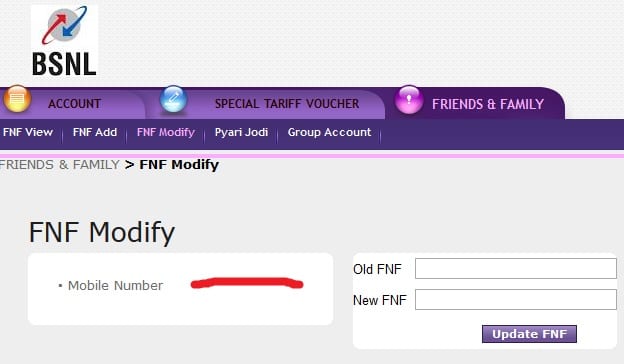 Step 12 : This option 'Group Account' under Friends and Family allows you to maintain a friends group, modify existing group and recharge group of numbers.

Working States and Regions of the Selfcare Portal
BSNLSZPrepaid – BSNL Selfcare Portal works in all states or circles like Andhra Pradesh, Telangana, Karnataka, Tamilnadu, Kerala, Maharashtra, Madhya Pradesh, Gujarat, Rajasthan, Punjab, Haryana, UP East, UP West, Bihar, Orissa, Chattisgarh, Bihar, Sikkim, Assam, Meghalaya, Tripura, Manipur, Mizoram, Nagaland, Arunachal Pradesh, Jammu and Kashmir, Andaman Nicobar, Chennai, Bangalore or Bengaluru, Hyderbad, Chandigarh, Dadra and Nagar Haveli, Daman Diu, Lakshadweep and all.
Also read articles