Windows is the most popular desktop operating system in the world. Windows 10 is most recent or latest operating system which is supported by Microsoft with all security patches every now and then. Windows Machines continue to eat up more and more space on C Drive over a period of time. So let us know how to free C Drive Space or Storage in Windows 10, Windows 8 and Windows 7.
Free Up Space in C Drive in Window 10, 8 and 7 Without Formatting
We shall see how to increase C drive space without formatting and without installing any third party software. Let me start with explaining how to check Free Space or Occupied Space in C Drive. Right Click on C Drive and Click Properties. You can see the Size of C Drive with Free and Occupied Spaces.
Look at the Free Space when compared to the Drive Size of 120 GB. This problem arises only with frequent updates received by Windows Operating System.
Disk Clean Up Option in Windows 10, 8 and 7
Yes. Disk Clean Up option enables you to free temporary files and other files occupied or lying idle on Hard Drive.
Step 1: Click on Disk Clean Up Option. You will be surprised to see Giga Bytes of Data occupied by unknown or junk. You can Select folders or files to delete. Click Ok if you want to clean just Normal Files or Wait till Step 2 to clean more files.
Step 2: Now Click on Clean Up System Files. This option is often under estimated one. But, it is the most important option Windows Operating System is providing to increase free space in C Drive. Most of the Space is occupied by Previous Windows Installation Files. So upgrading your Operating System with Every Next Major Update creates Junk Files on C Drive. Click Ok to Clean C Drive and Free Up Space.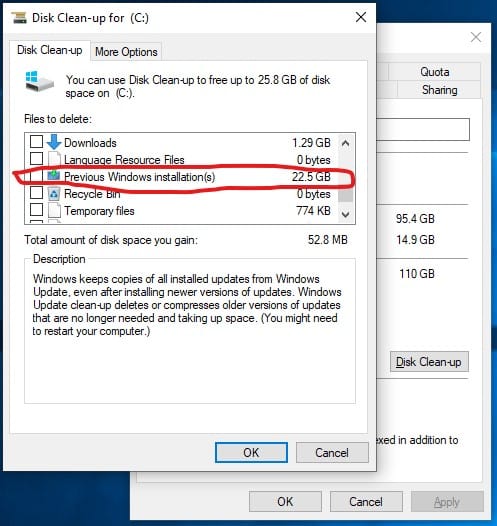 Step 3: Repeat above steps after each and every Windows Major Update which are released every 3 to 6 months.
Please note that the Space occupied by unnecessary files shown here is not final. It may be actually less than shown. So you can not tally exactly the amount of Free Storage recovered after using Disk Clean Up service.
We also advise all Windows users not to depend on third party Windows Optimization tools to clean your system. They may contain hidden malware. So think before you install any software without proper brand value. Also, Formatting is avoided by using these built-in options provided by Windows to free space.
If this post is useful to you, you can Share This Article and Encourage us.