You should link your AADHAAR card with your PAN card one day or the other. The government may impose a penalty also if not done. Let us know the linking procedure step by step.
Note: AADHAAR is a 12 digit number and PAN is a 10 digit number.
1.
Link AADHAAR Card and PAN Card using SMS
 You should an SMS to either 567678 or 56161 numbers in the below mentioned format mentioning both the AADHAAR and PAN numbers.
UIDPAN <space> AADHAAR_NUMBER <space> PAN_NUMBER
You will get an acknowledgement shortly. It looks like below.
Reply 1: Dear Applicant, your request is not in the proper format. Please retry using the specified format only. We thank you for using our services. Regards, UTIITSL.
Reply 2: Dear Applicant, your request for linking your Aadhaar with PAN is received. We will get back to you shortly after verification. Regards, UTIITSL.
You will get another message or SMS with a confirmation about successful linking.
2.
Link AADHAAR Card and PAN Card Online
You can link your PAN card and AADHAAR card online using the official IncomeTax website. You should provide your PAN, AADHAAR and Name as per AADHAAR. You will get an OTP to your registered AADHAAR-linked mobile number.
Click the Link AADHAAR button to link these successfully.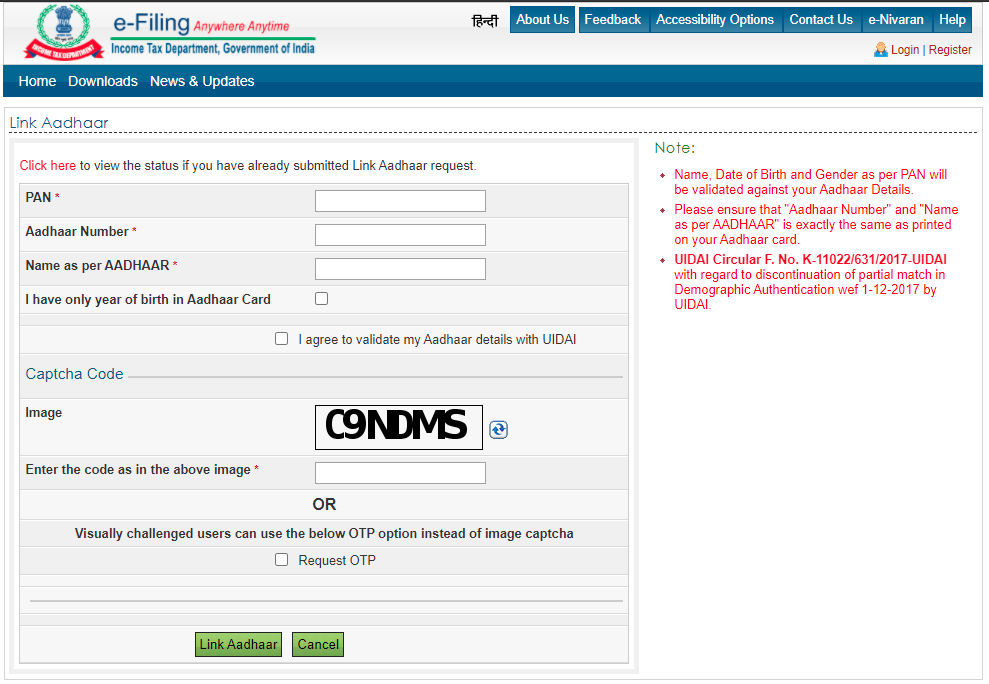 3.
Check the Status of Linked AADHAAR Card and PAN Card

Online

You can check the status of your previously linked AADHAAR and PAN cards online using the same IncomeTaxIndiaeFiling site. This method does not ask for OTP SMS. So, anyone can check anyone's linked status if you know both the PAN and AADHAAR numbers of your friend.

This is how you should link an AADHAAR card and PAN Card using SMS and Online methods.
Other Interesting Articles