ICICI Bank offers various Insurance Policies to its customers. You can pay the ICICI Prudential Insurance Premium either manually or set up Auto-Debit standing instructions. The amount will be debited from your account automatically on the set-date. It is also called ECS (Electronic Clearing System) facility.
Also Read: Know how to enable Amazon Prime Video Parental Controls for Kid's Safety
Set or Remove ICICI Auto Debit Standing Instructions
Standing instructions help us to automatically pay the ICICI Pru Insurance premiums as long as we maintain sufficient balance in the account. Some customers do not like this auto-debit feature. Instead, they want to pay manually. They can remove these standing instructions. Let us follow the below steps to set-up or remove the auto-debit facility.
Step 1: Open the ICICI Bank Standing Instructions link. Fill Date of Birth (DOB) and one of the Policy Number, Mobile-Number or Email-ID. It logs you into the Standing instructions add/remove page.
Step 2: The page lists a number of Insurance Policies taken by you. Against each policy, there will be a button named "SET SI (Standing Instructions)". If the button color is Green, the standing instruction is active. If it is Red in color, the standing instruction is not Active.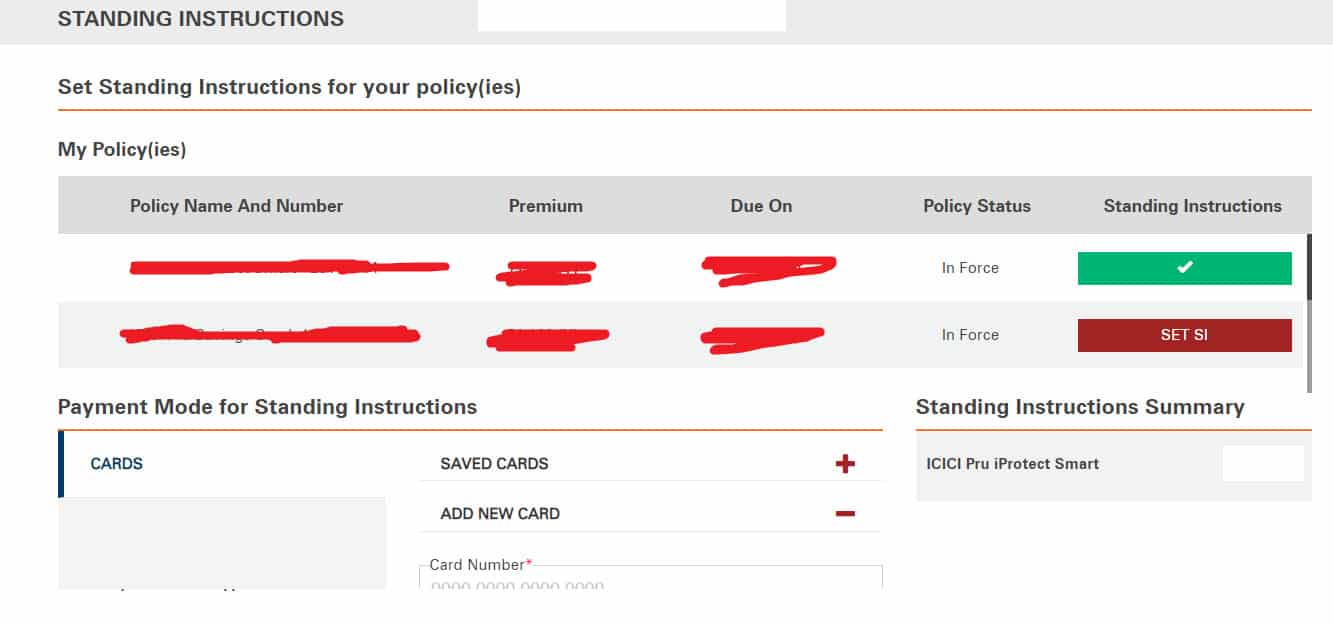 You can add or remove any Credit Card or Debit Card to setup Auto-Debit facility.
Step 3: If the auto-debit date for premium payment is nearing, you will be notified by the Bank in SMS and Email format. If you can not maintain sufficient balance, you can remove the SI instructions using the above procedure.
Also Read Articles
It is time to Share this article with your friends and colleagues.