BSNL (Bharat Sanchar Nigam Limited) has introduced a first-ever Free Broadband Plan to assist employees working from home. This is a great initiative by BSNL to combat against spreading of Coronavirus or COVID-19. Letus know more about this Work@Home plan in detail.
BSNL Work from Home Free-Broadband Plan Details
This free broadband plan is similar to a 5GB CUL plan with daily internet data of 5GB at 10mbps speed. After this 5GB FUP limit, speed comes down to flat 1mbps till the day ends at 11:59 PM. As this is a Combo broadband plan, landline calls are free of cost any network on any day. So, night-calling or day-calling is completely free. This plan is free only for 1 month.
This free broadband plan is available on both Copper (Cu) and Fiber. At the end of the 1st month, this free plan is automatically converted to a 2GB BSNL CUL Plan if the connection is on Copper (Cu). If the connection is on Fiber, this free plan is converted to a 100GB Fiber plan.
Customer should arrange his own ADSL or Optical-ONT modem. ADSL modems are cheaper now a days. ONT modem costs twice.
Applicability: Only New customers and the existing customers without broadband are eligible to apply for this free plan.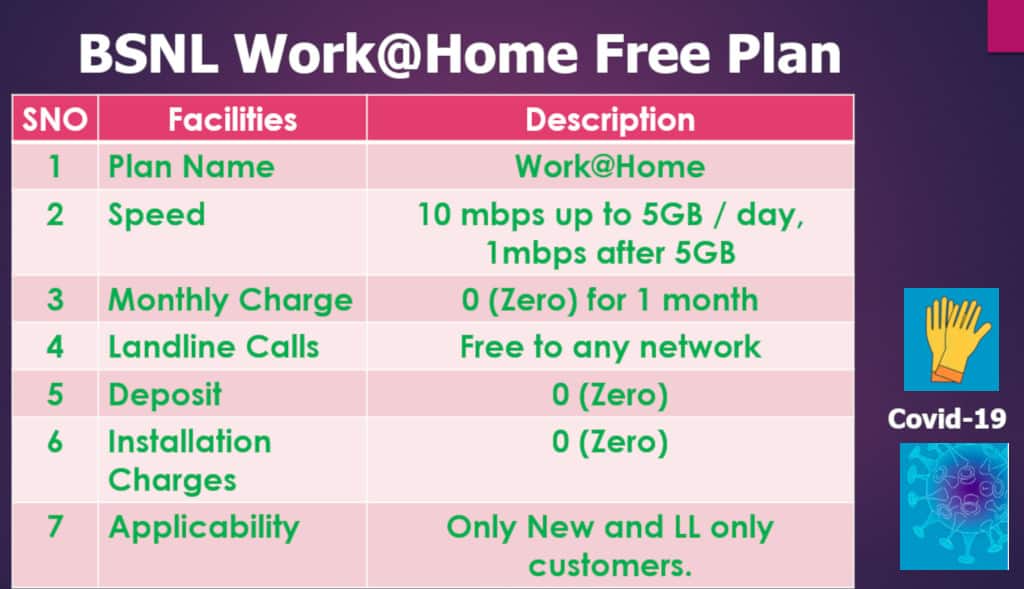 Good News: There are Deposits and Installation charges on this free BSNL Broadband plan. You can save more than ₹750 on this alone.
So, those who are working from home to avoid contact with Flue Patients and stop spreading of Coronavirus can avail this opportunity. There is no commitment period on this plan. You can surrender it if you want.
Other interesting articles on BSNL
It is time to Share this article with your friends and colleagues.