The state-owned BSNL (Bharat Sanchar Nigam Limited) offers a variety of services to the customers namely Landline, Broadband, FTTH Bharat Fiber, Air Fiber and others. You should know how to Register your Mobile Number and Email ID with BSNL so that you will get SMS confirmations on Bill Generation and Payment Acknowledgement. This same procedure works for changing the existing registered Mobile-number and email-id too.
If you can not do it online, you should visit the nearest BSNL CSC (Customer Service Center), write a letter mentioning your Landline number and submit. They will feed your Mobile-number and email in CDR or CRM servers manually. All official communications will be done through these registered mobile number and email only.
Register or Change Mobile-Number and Email-ID Online for BSNL Landline, Broadband, FTTH, Bharat Air Fiber
If you register your Email ID and Mobile Number with BSNL CDR (Custome Details Record) system, You will get SMS and Email alerts for the following events.
Bill or Invoice Generated
Due date reminder
Bill Paid confirmation or acknowledgement
Fault Booked Online
Fault Cleared
Follow the below steps to register your email-id and Mobile-number.
Step 1: Go to BSNL Flash Website.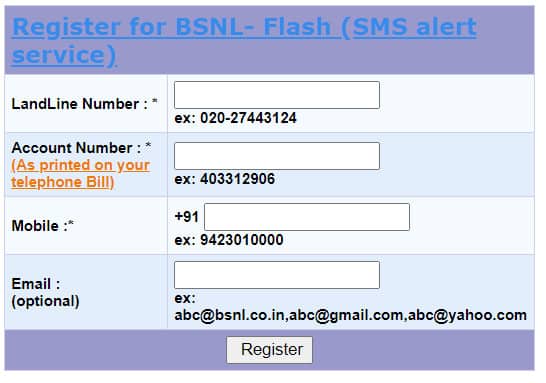 Step 2: Enter the Landline Number allotted to Broadband, FTTH, Bharat Fiber and Bharat AirFiber services. Account number will be found on your Physical bill copy. Also, enter Mobile Number and Email. Click Register.

Step 3: Wait for the confirmation message. The next time you bill is generated by the BSNL servers usually in the first week of every month, you will get Bill Amount by SMS and email. You will get another SMS just before 2 days of the last date for payment.
Step 4: In this step, you will know how to register Mobile-number and Email by sending SMS in a particular format. This step is for Offline customers who can not use the internet or browsers or who are using basic feature phones without internet facility.
Send an SMS to 09404001111 in the below format mentioning the Landline-number, Mobile-number and Email-Id.
reg<space><telephone-number>*<account-number>
Or in this format with email Id too.
reg<space><telephone-number>*<account-number>*<email-address>
Step 5: You need to wait until next month to actually test the outcome of this Online and Offline registration. You should be getting an SMS and email with your Monthly Bill amount details.
It is time to share this helpful BSNL article among your circle of friends.
Other interesting BSNL How-to articles