BSNL (Bharat Sanchar Nigam Limited) offers GPRS Internet on its both Prepaid and Postpaid SIMs. Even in this 4G-5G era, the APN settings are still called GPRS settings. Let us know how to activate BSNL GPRS Internet by configuring APN (Access Point Name) settings on Android, Apple Phone iOS or any other Operating System.
The SMS Procedure with 58355 is not working now. We have not received any preconfigured APN on our phone. The SMS looks like "PHONE MODEL" to 58355.
This article or guide can solve problems like "Not working BSNL Internet" and 4g-5G settings on the BSNL SIMs.
Activating BSNL GPRS Internet APN Settings
Gone are the days phone manufacturers shipped their phones with a variety of Operating Sytems (Symbian, Palm, Windows etc). Majority of Smartphones these days are shipped with Apple IOS or Android (Stock or Forked). The below procedure to activate BSNL GPRS internet applies to any phone in general.
APN Stands for Access Point Name. The APN for BSNL Network is "bsnlnet". This APN works for SIMS of all states of the country like Andhra Pradesh, Karnataka, Kerala, Telangana, Tamilnadu, Maharashtra, Madhya Pradesh, Uttar Pradesh, New Delhi, Rajasthan, West Bengal and more.
A single network operator uses or supports the same APN for all 3G, 4G LTE and 5G networks. An APN contains Name, APN, Proxy, Port, Username, Password, Server, MMSC, MMS Proxy, MMS Port, MCC, MNC, Authentication type, APN Type, APN Protocol, APN roaming protocol, Bearer, MNVO Type and MNVO Value.
Activating Internet on your New BSNL SIM is a two-step process. In the first step, we activate internet on the Server Side by sending an SMS. In the second step, we create an APN or Configuation file on the Phone to access the Internet from BSNL Tower or Server.
Procedure to Create a New APN to access BSNL Internet
Step 1: Before creating an APN, we need to activate Internet Facility for our New SIM on BSNL Server side by sending an SMS to 1925 in the below format. You will get a confirmation message saying "GPRS is activated on your SIM or Phone" in 1 or 2 hours.
START to 1925
Step 2: Now we shall try to create an APN manually. In your Android or Apple IOS phone, go to Access Point Names or APNs option under the corresponding SIM Network Settings (First or Second).
Step 3: Click the NEW or + (Plus) symbol. Type Name as anything you want. Type APN as "bsnlnet". Click Save. Leave the remaining fields as they are.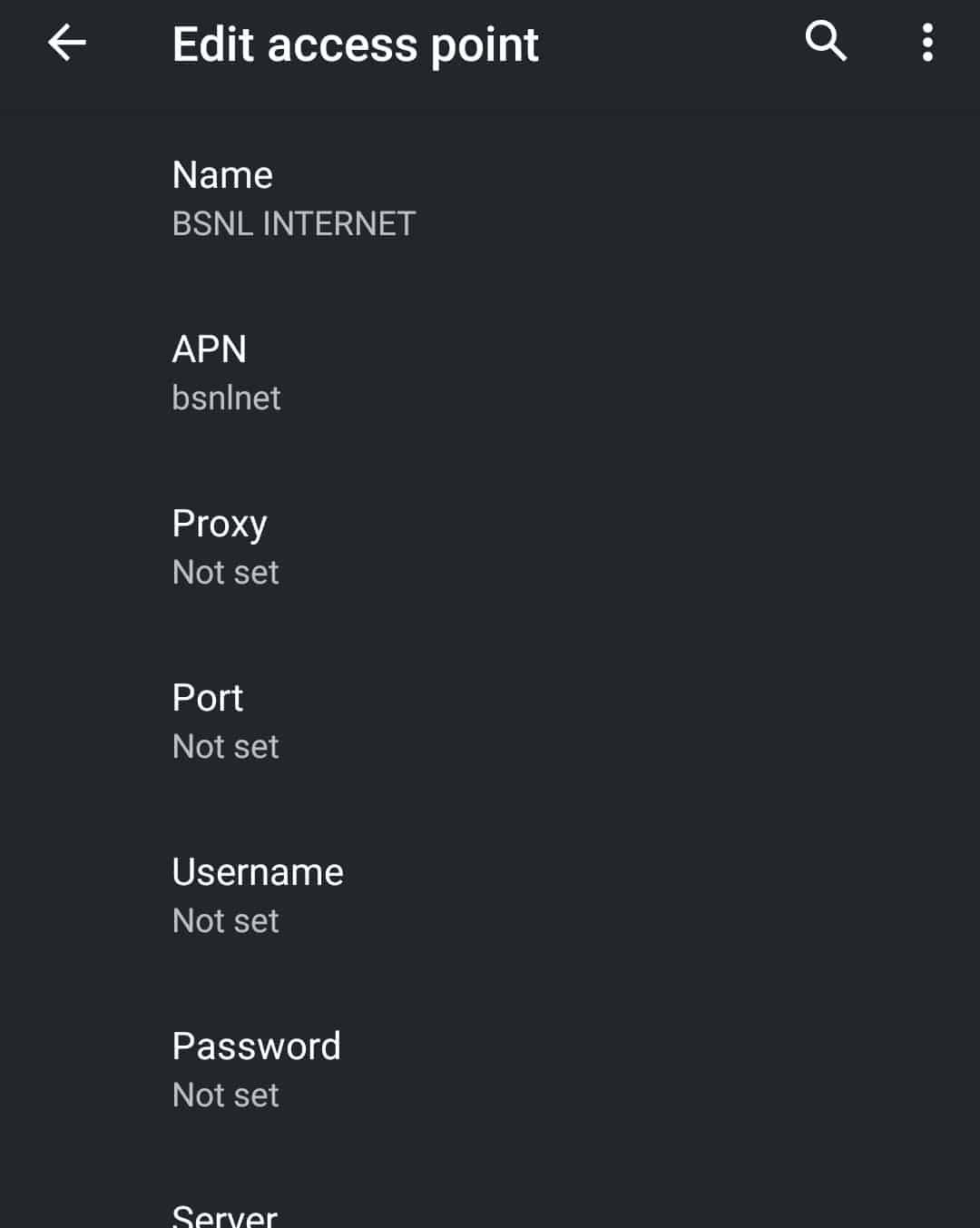 Step 4: Choose the newly created APN as the default APN by clicking the Radio Button or Checkbox.
Step 5: Restart your phone if required to make the new APN settings active. Now you can access GPRS internet on your BSNL SIM.
This is how we activate GPRS Internet on our BSNL Prepaid or Postpaid SIM.
Bonus: The name of Reliance JIO Network's APN is "jionet". You can configure the APN right away to access the net.
Its time to Share this article with your friends and colleagues to encourage authors.
Other interesting and useful articles are below.