The state owned BSNL (Bharat Sanchar Nigam Limited ) has come up with an extra ordinary offer for its Postpaid Mobile, Landline and Broadband Customers. It is the most popular BSNL Amazon Prime Free 1 Year Offer. Letus find how to avail the offer.
How to Avail BSNL Amazon Prime Offer
BSNL is celebrating its Formation Day on October 1st 2018. As part of the celebration, BSNL has announced a customer friendly offer that is internet based. BSNL has tied up with Amzon to provide Free Amazon Prime Offer for its customers.
What Amazon Prime Offers
Amazon Prime offers the following to its Paid Subscription Customers. It costs ₹999 per year or ₹129 per month.
Free One day, Two Day or Standard Delivery on eligible items with Prime Logo.
Free access to Amazon Prime Video site which allows you to stream and watch English, Hindi, Telugu, Tamil, Bengali, Punjabi and Other language movies, Animation content for Kids and Other Curated Serials and TV Shows.
Free access to Amazon Prime Music library site that can be used both in Phone and Desktop. You can download songs offline on your android or apple phones.
Latest addition being Amazon Prime Reading which offers free books to read.
30 Minute early access to top deals and promotions.
Eligible BSNL Mobile Customers
If you are a Prepaid customer, you should switch to a BSNL Postpaid plan of  ₹399 monthly or above to avail the BSNL Amzon Prime offer for 1 year.
Eligible BSNL Landline Broadband Customers
To avail BSNL Amazon Prime offer on existing or new Landline Broadband Plans, your plan should be equal to above ₹745 per month.
How to Check BSNL Amazon Prime Offer Eligibility
1. Open BSNL Online Portal.
Mobile Customers
Enter Mobile Number, Email ID, Circle / State and and OTP.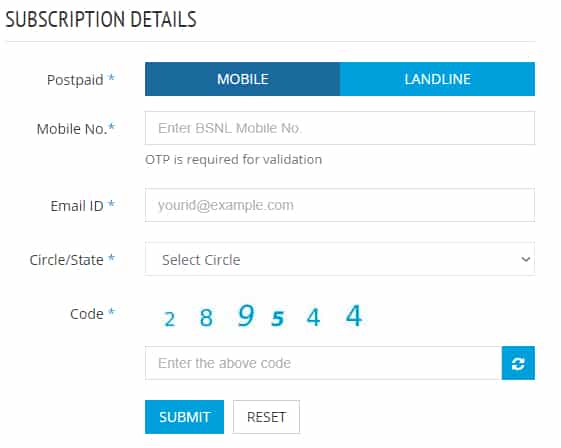 Landline Broaband Customers:
Enter Landline Number with STD Code, Mobile Number, Email ID and Circle / State.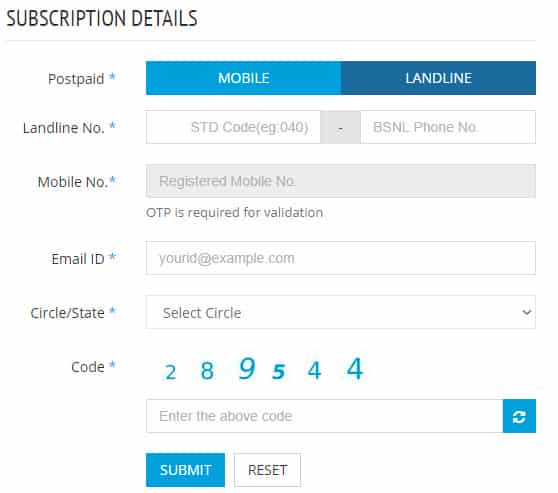 If you are eligible, you will see one Popup to Login or Create Amazon Prime Account. Once created or logged in, you will be enrolled into BSNL Amzon Prime Offer valid for 1 year.
If you are not eligible you will see one Information Message.

 This is how a customer can activate Amazon Prime 1 Year ₹999 offer on his BSNL Mobile or BSNL Landline Broadband plan without any extra cost.